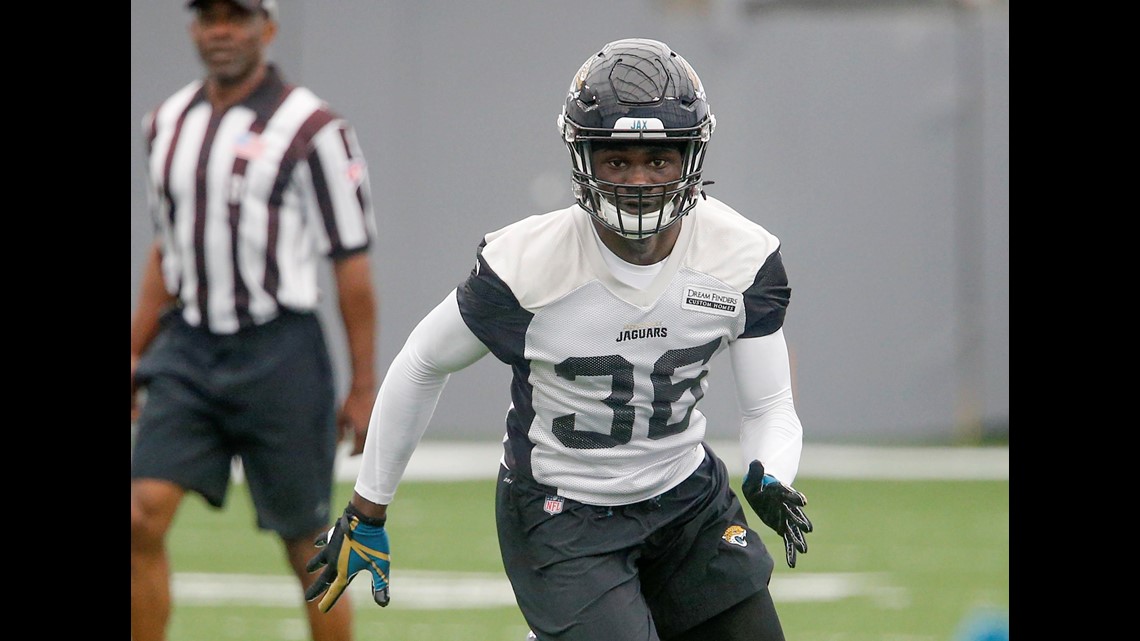 JACKSONVILLE, Fla. — Jaguars free safety Tashaun Gipson is quick to compliment his teammates. Whether he's raving about Myles Jack's reliability or claiming Marcell Dareus is underrated, Gipson has become an advocate for those surrounding him on the depth chart.
During his Monday press conference, Gipson reserved his highest praise for a player who could eventually replace him down the road.
"I love Ronnie Harrison's game," Gipson said to reporters following the team's fourth training camp practice. "He is one of those guys who truly can play both positions. I guess the knock on him coming out was that he was a box safety and what not, who can't cover. I truly believe that he is a unique player, and I think that somehow, someway Ronnie is going to be on the field. He is a good young player."
DOWNLOAD: The free First Coast Football App for Jaguars stats, scores, analysis, stories and more
The Jaguars selected Harrison in the third round of April's NFL Draft. Considered a steal by most draft pundits, Harrison arrived in Jacksonville with a reputation for being a heavy hitter. Since joining the organization, Harrison has expanded on his physical notoriety, impressing teammates and coaches with his intelligence and athleticism.
Harrison was a playmaker at Alabama, posting 174 tackles, 3.5 sacks, seven interceptions and 17 pass breakups in just three seasons. Gipson has seen Harrison's playmaking ability up close and he credits the rookie's intelligence as the catalyst for that success.
"He understands football, and that is one of the things that you look at," Gipson said. "He knows how to play the game of football, and I don't know if you want to give Nick Saban all that credit. He is just genetically gifted. I am excited to have young guys like that that give us depth. It is an exciting thing like that to be able to coach young guys up. He is quiet, he doesn't talk much, but when he goes out there he plays, and all he does is make plays."
Harrison has been making plays during training camp as the backup strong safety behind Barry Church. Currently in a battle for the third safety job with Cody Davis, Jarrod Wilson and Don Carey, Harrison will have to use his athleticism and intelligence to his advantage. If he can make the most of his physicality during padded practices, Harrison could see meaningful playing time early on as Gipson has predicted.
Follow Mike Kaye on Twitter: @Mike_E_Kaye.
© 2018 WTLV